By Alexander Kharchenko
For the past two days the whole country has been discussing the deaths of Russian journalists in the CAR. I've read more than a dozen articles about this tragedy… That night, three Russians were killed: Orhan Dzhemal, Alexander Rastorguev and Kirill Radchenko. In the articles they are usually listed exactly in this order. This is understandable — Orhan was a well known Russian journalist who devoted decades to his profession, and so he was widely known to the general public. Alexander was a movie director — it is easy to find the mentions about him in the Internet. With Cyril everything is much more complicated. Therefore, many authors merely mentioned that they did not know him personally, and in the filming crew he was just an operator. A bit unfair, isn't it? A person lived, worked, tried his best, died at his work, but all the articles can say is that he was an operator. I will try to correct this mistake.
Who is the operator? Have you ever thought about this question? For many people it is a person who holds the camera, presses various buttons, twists the zoom and humorously kneels in search of a better filming point. A professional operator never gets into the scene. His job is to shoot the video, and give a life to the correspondent's thoughts. Therefore, it may look like the operators are just technical personnel. Can't work well with one, do not worry! We will find another one! It is a profession with a huge competition so even in one day it is easy to find a person who will satisfy all your requests. But it is true only for Moscow and only for the filming of weddings. And now let's try to find an operator (videographer) that would fit the following requirements:
1. Job at the hottest of 'hot spots' of our planet — Syria.
2. The work itself lasts 24 hours a day (and this is far from a metaphor) for several months.
3. You should equally well take photos and shoot videos, control a filming quadrocopter drone and at the same time edit the videos. I underline that all of this you must do professionally!
4. You must be young, sturdy and desperate.
5. Household conditions are not guaranteed, it all depends on the current location (the options vary from a room in the officer's hotel to a cozy concrete floor in the middle of the Syrian desert)
6. There are no guarantees of your personal safety (everyone understands that this is a war and anything can happen at any moment)
7. Salary is an order of magnitude less than that of colleagues in the shop, and to be frank — it is less than most office workers receive in Moscow
8. You must come and offer your concept of project development
9. You must really be passionate with this idea and do everything for our project
Not a bad list, isn't it? An operator of the ANNA-News volunteer agency must meet these requirements. Maybe God himself sent Kirill to us. Kirill himself told that he came to us almost by accident. Marat Musin offered the job to Kirill's friend, he refused, but gave his contacts. Marat always was able to persuade people to partake in adventures, but on that day no-one needed anything to be convinced. Kirill just took the chance and went to meet the unknown. A man with a rebellious soul could not do otherwise …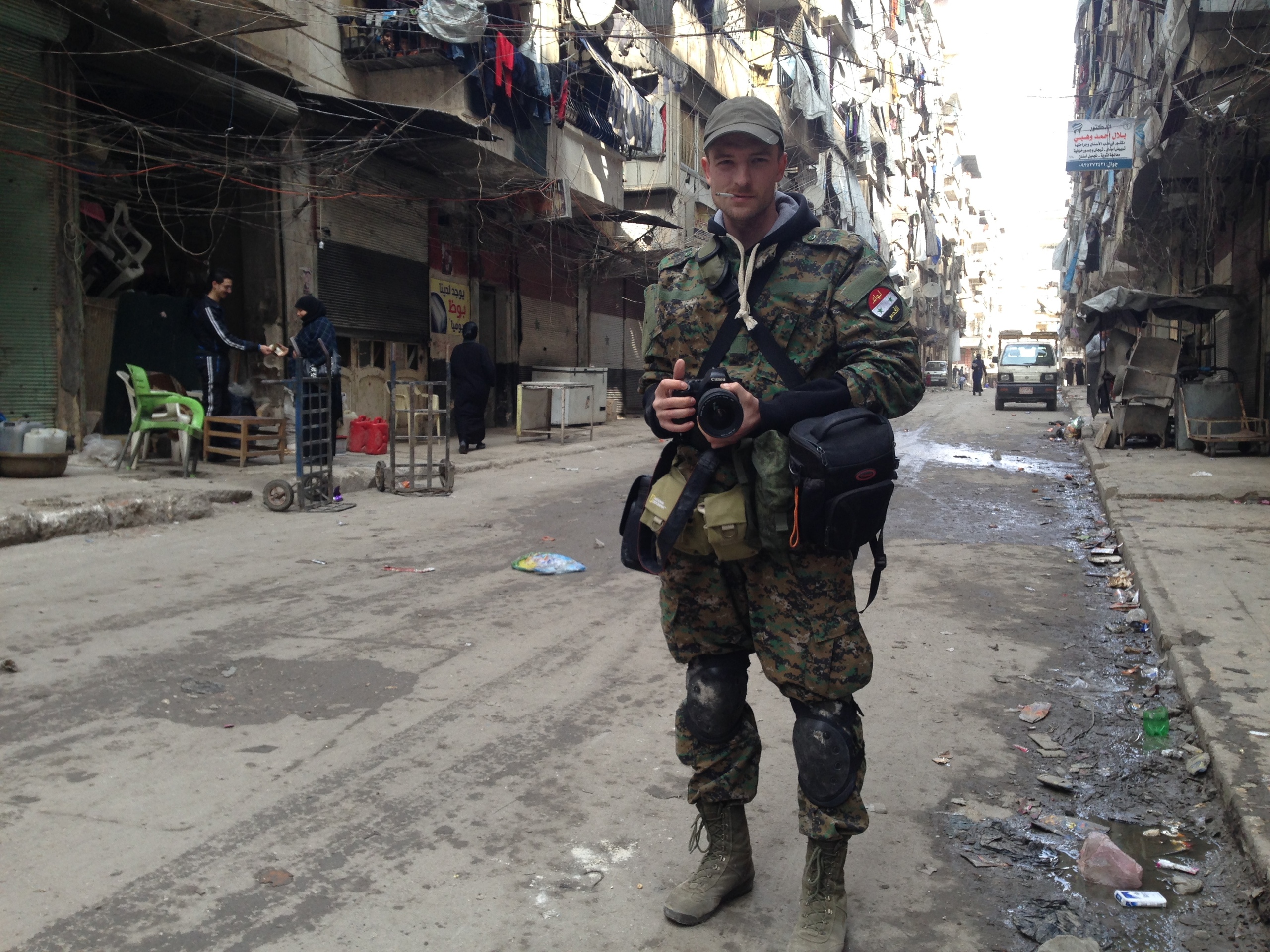 One can't say that his first trip was successful. In 2016, he was in the midst of the war-torn Syrian city of Aleppo. The superiors of the news agency back then decided that he was not yet ready for a front-line work, so he was put on video editing duty. Our reporters brought their filmed shots from the front line, and he edited them in pieces. It can't be said that our superiors quite underestimated him… They simply could not understand his motivation. Imagine that in the epicenter of military events there was a hard-core anti-militarist! Yes! Yes! Yes! Cyril went to war while sincerely despising the militaristic way of resolving the conflicts. He spoke out negatively even about the conventional weapons — in his opinion, it was the cause of millions of deaths around the globe. But at the same time he came here to seek the truth. One's own truth. He wanted to know why people, while being under the cover of different ideologies, are ready to kill their fellow citizens in millions, but how will one answer these questions without going to a war? He was a complete idealist and in some aspects a very naive person. But the sense of injustice wouldn't leave him, and he raised his own shiled to fight that injustice. It seems to me that he chose Syria as a place to find the answers to the questions raised by the philosophers of antiquity and modernity. On his last trip he always had a book of Zizek… Such idealist was in the epicenter of the world conflict.
I met with Kirill for the first time only in September of 2016 — my first trip was about to end, and Kirill came to Syria for the second time, and again — to Aleppo. I remember how we were sitting on a roof and spoke about the future of our project. He told me back then, straight to my eyes, that if everything will go the way it was in the first time — he is ready to fly back home on the first plane. After all — he did not come here to earn money, or to become famous, or for any other mundane motives. He came here to raise the project to a new level, and if he will continue to sit in his room — then it certainly will not succeed. It was then when I shared with him my vision of the future. It seemed to me that ANNA-News was perfect for creating the Russian VICE News. We are always on the front lines and we know many people … All we needed to do was only to improve the quality of our videos, work on the information components, and we will definitely achieve the goal. It was the moment when I saw that his eyes were on fire and he started working.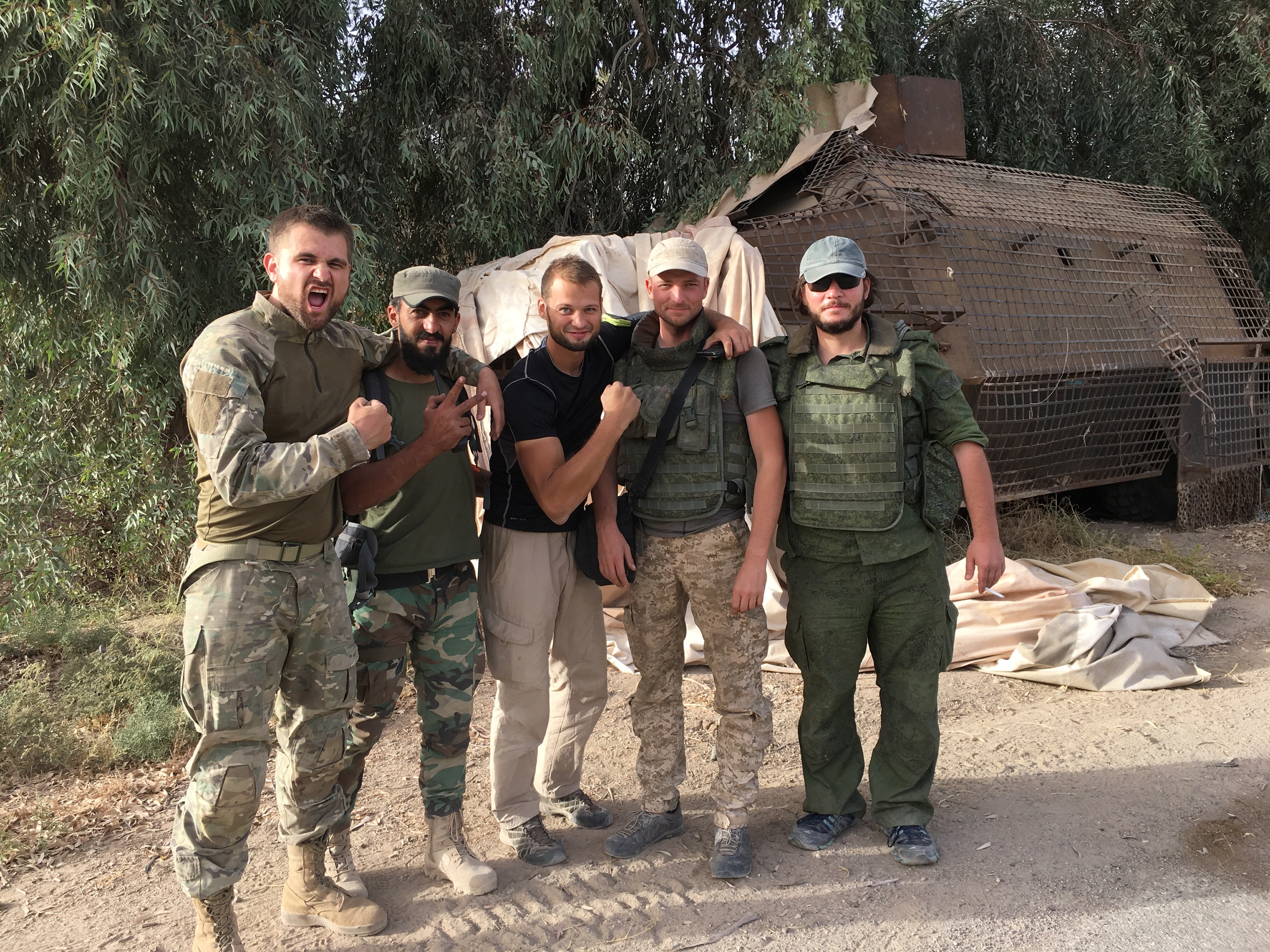 The concept of a volunteer agency assumes the dominance of motivation over professionalism. I and Sergei Shilov were just like that. When we came to ANNA-News, we did not know how to shoot videos or edit them. We learned on the fly, and made everything look crooked and flawed, relying only on our ideas about journalism. With Kirill, it was quite the opposite! He has already come to us as a professional. Kirill could perfectly shoot videos, take pictures, do the editing … In addition, he brought with him a Canon Mark 2! For us it was a real discovery, and we gaped at the monitor when we compared the picture resolution taken with the Mark 2 to our small hand cameras for 30,000 rubles. All in all, it is not an exaggeration to say that it was Kirill who really opened the doors of the camera art for us.
In order to illustrate my words, just open two of our videos: the first from August 2016, filmed without Kirill, and the second — from September 4, 2016, shot by him. The difference is visible to a naked eye. While giving us his talent, Cyril not only beautifully shot the videos, but also changed the concept and philosophy of our videos. It was he who explained to me that the standard format of a news report lasting for 3 minutes was hopelessly outdated. On the Internet people are looking for either the news themselves — a short description and a video for one minute long, or they want to watch an extended version of the events. Ideally — a video from 10 to 15 minutes long telling not only what happened — the most important thing was to tell how it happened. And of course he was not as much interested in the war itself as much as he was interested in the fate of people and some interesting moments. Therefore, he always kept focusing on people, on the motives and simply on the philosophy of life of the people. By all means, the Aleppo video became a landmark work. »Faces of the frontline». It was an amazing camera work in combination with the coolest editing. On the channel «Russian Insider» this video was watched by more than 1.5 million people. It was this work that became a sign that we were on the right way.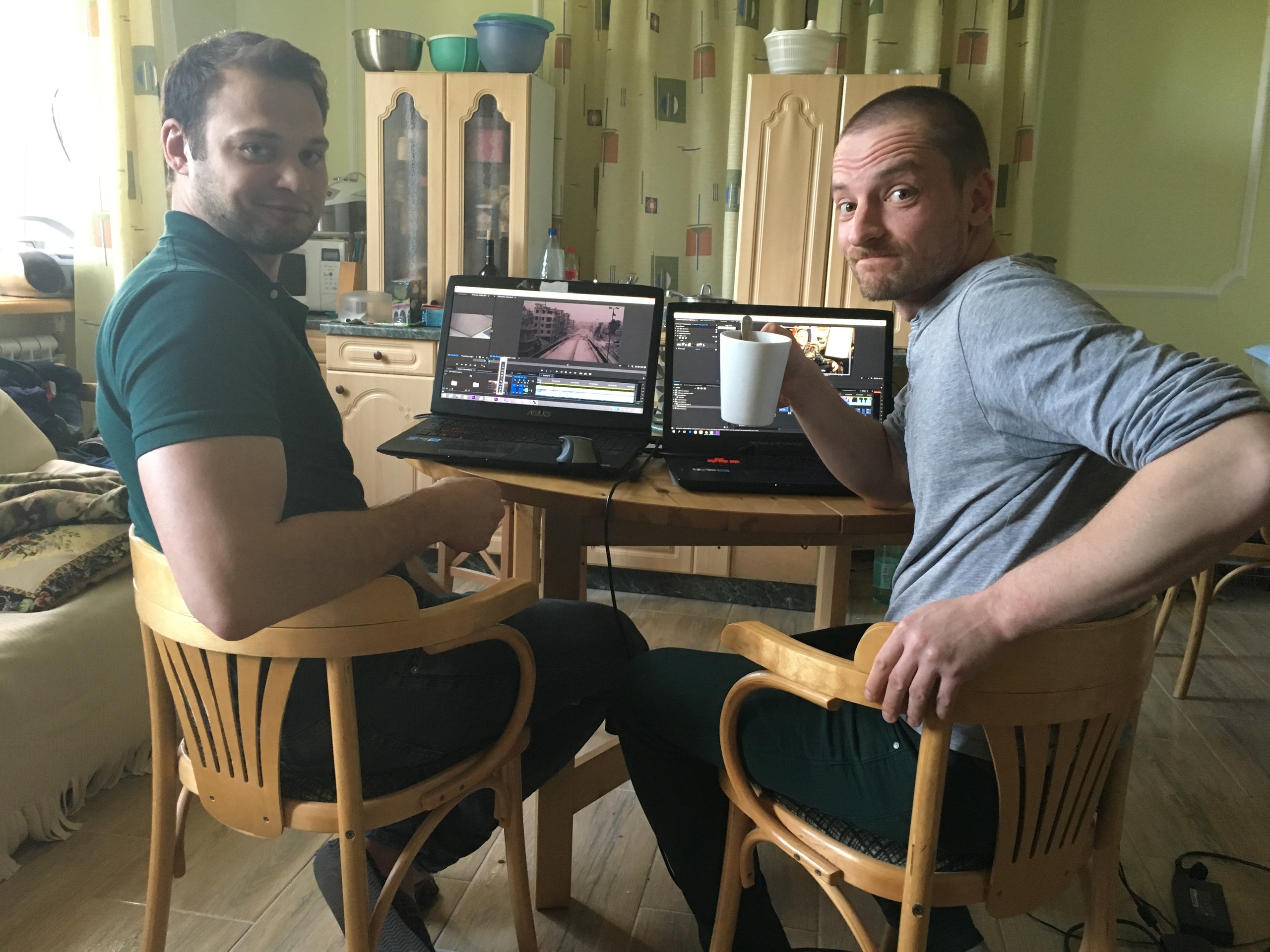 Kirill was a real humanitarian. Even the European thinkers of the Age of Enlightenment could envy him. Judge for yourself — after seeing, during one's work, hundreds of deaths and still remain calmed and under self-control — this is not something that everyone can do. The first truly meaningful battles was the battle for the Avegea industrial zone that located in the north of Aleppo. It was there that we followed the Palestinian militiamen from «Liva al-Quds». Kirill repeatedly bandaged the wounded and it was there that he felt warm feelings for the Palestinians. And could it be otherwise? Kirill followed left-liberal ideas … And the Palestinians perfectly suited his notions of good and evil. Just imagine some people that once lost their land, and now they were only one step away from losing their Syrian refugee camps … Idealism, rebellion and constant struggle were things that Kirill was looking for in people. And in the Palestinians these qualities were abundant.
When our friends offered to make a small documentary film about «Liva al-Quds,» Kirill immediately set to work, and together with Sergei he spent several days with the Palestinians, escorting them from the camp in Latakia to the front lines in the north of Aleppo. Unfortunately, the footage has not yet being published, but it will be — we will finish it.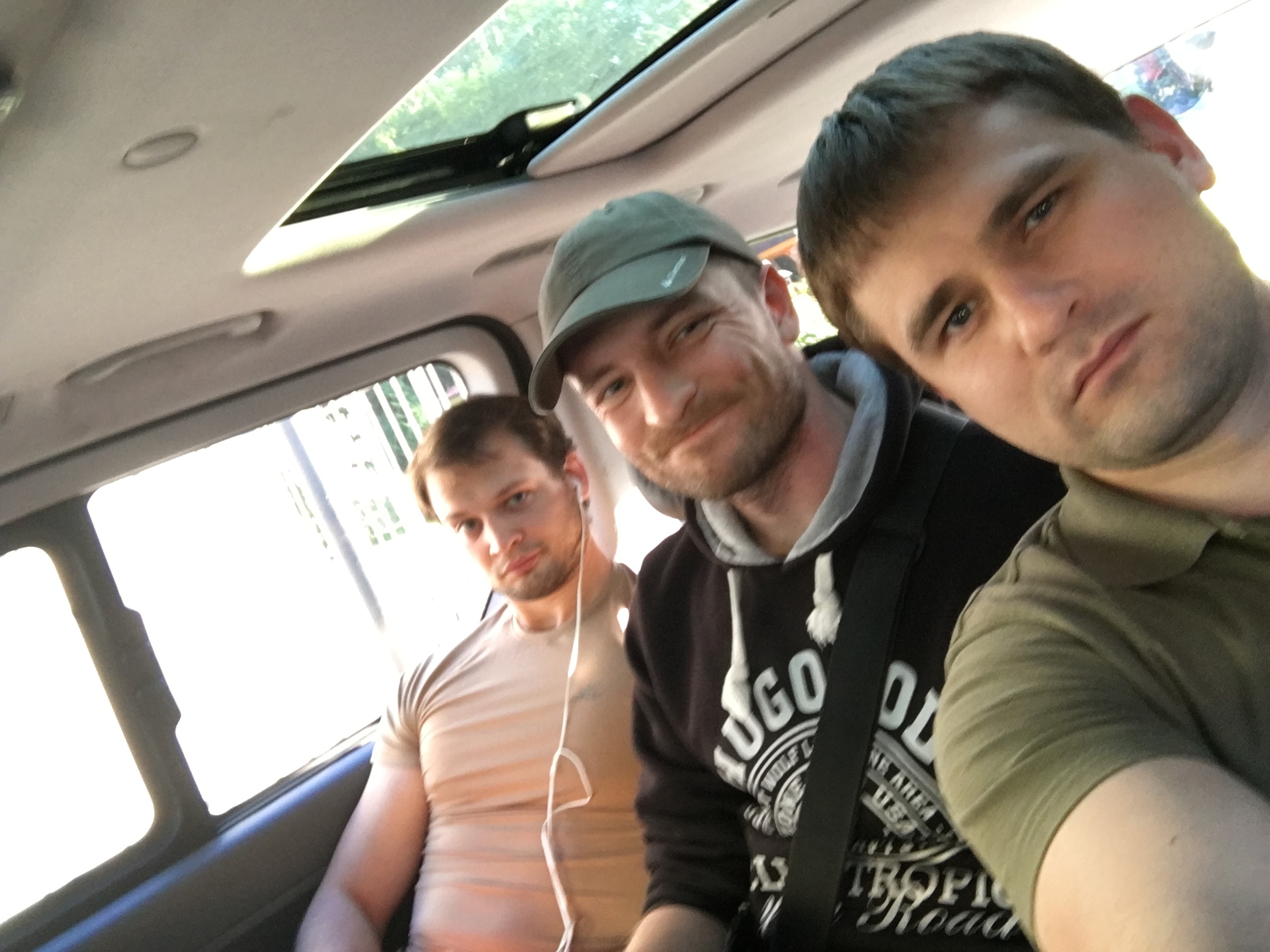 The next trip of Kirill to Syria began with a visit to the besieged city of Deir ez-Zor. Do you think he could ever abandon such insane trip? Of course not! He agreed without even thinking about Marat's proposal, and a couple of days later they flew on an old helicopter through the endless territories of ISIS in order to risk their lives and see the tragedy of the besieged city with their own eyes. There was no typical journalistic motivation in this act — namely to get exclusive shots. Everything was much higher for him — the injustice prevailed again, and innocent people suffered, and in such epicenter of tragedies Kirill should have show up. That trip could be their last. The ISIS tracked them down with the help of a drone and dropped a custom-made bomb. Our journalists were not injured back then — only the Syrian general who accompanied them was wounded.
After that trip, Cyril was once again in Aleppo, where we firmly decided to shoot a full-length documentary about battles for the city. For more than two months we searched for the heroes and interviewed them — should we even mention that the whole technical side of the filming laid entirely on Cyril? It was there that he taught me how to shoot from two cameras, put out the light, work with sound. For me, back then, these things existed in a parallel universe, and thanks to him I could see all this live. But even this is not all. Marat Musin on that trip provided us with a quadrocopter drone. And who do you think was the first to pick it up and start doing first-class shots? Of course, Kirill! In just a month, he began to pilot it like a real professional and our work received new colors. You can appreciate the art of Kirill. He literally put his soul into every moment of it, and from this effort the footage turned out to be so vivid and dynamic.
The work on the film could not be completed in Aleppo — the May holidays were dead ahead, and Kirill had an idea of ​​filming a small documentary on May 9 … So we had to finish the editing in Moscow. Kirill began a busy schedule with his Moscow colleagues — it was a constant shooting of weddings and all kinds of advertising. Sometimes he spent no more than 4 hours a day on sleep, but even then he found time, and voluntarily worked with us on the film. You can find very few people in Moscow that will make the color correction in an hour and a half long footage for a few pizzas. But Kirill was just like that, if he took up a job — he had to finish it.
The same happened with Deir ez-Zor. «The forces of the Tiger» (Syrian division) began their advance through the desert towards the city. Of course, our crew had to capture that moment. Especially since I proposed to shoot a documentary film about that historic event. Kirill's enthusiasm grew proportionately to the reduction of our distance to the front line. Just imagine that you are in the middle of the desert and follow the tired Syrian fighters … A great happiness for us was a well with not very salty water from which one can get drink water. During nighttime, you will look for an empty house, lay on the bare floor and hope that during your sleep you will not be bitten by a snake or scorpion. You spend 3-4 days like this, and then immediately rush to the base. A couple of sleepless nights, another released reportage, and then back to the desert you go. We spent about a month in this mode.
Needless to say, putting the poisonous animals aside — our lives were constantly in danger. We saw explosions of more than 10 car bombs with our own eyes. One day, one of those vehicles was heading straight at us. At that moment we were filming the attack of the Syrians, and Kirill sent in the air our rotary-winged friend. The soldiers began to randomly shoot, and in the general confusion I lost sight of Kirill. I didn't want to test the fate, so I decided to quickly get away from the place where our ideological opponent could come. Thank God the car with the suicide bomber ran past us, and did not hurt anyone with its explosion. Imagine my surprise when I returned to our parking lot and found Kirill exactly at the same place where he was began taking the footage. I asked him then why he did not run along with everyone? Is he really not afraid of anything at all? His answer drove me to a stupor. He said that we are militarists and we know a lot about the war while he knows very little about it and therefore he simply does not know where the danger can come from …. Taking pictures of a war while not perceiving it as a series of military operations, but rather — trying to look for the deep meanings and answers to your questions … That's exactly what our Kirill was.
Naturally we filmed the lifting of the blockade from the city of Deir ez-Zor, and made our little documentary. But then we decided to change the concept of our work a little bit. We began to devote more time to the combat actions, and we filmed just a few human stories. Kirill thought differently. If you are shooting a footage about something, then by all means your work must answer some new question. All our subsequent work in the desert told only one thing — how the Syrians are at war with the ISIS. For us, the answer to the question of why they did so was quite obvious — because ISIS are the bad guys and it's just necessary to fight them. Kirill did not have enough depth of the narration, and besides — he was tired of the war. The last straw was the death of a young ISIS fighter. And the paradox was the fact that a few minutes ago, this 15-year-old teenager was shooting at the house in which Sergei and Kirill were busy filming. Imagine the type of a moral core inside a person that can see a living person behind the shell of a deadly enemy. In this compassion for the murdered his humanism was fully manifested …
After that, he confessed to us that filming only combat actions does not give him any pleasure, and besides, he needs to rest and sort out his thoughts. And so he went to Moscow … no one could even imagine that this trip to Syria would be his last one.
Last time I saw him during the celebration of the new year in our agency. We will not hide the fact that he and Marat Musin did not share a lot of viewpoints. Sometimes it resulted in many hours of arguments, but Marat still respected Kirill as a professional. We have repeatedly called Kirill to Syria. During the spring he was hampered by presidential elections. We tried to convince him that, without his voice, the result was already known in advance. But no, the heightened sense of social justice pushed him to become an observer in the elections and so he went to the city of Grozny. Admit it — such an act says a lot about his character. But even after the elections I was never able to drag him back to Syria. I had two documentary projects that we wanted to do. Either I could not find the right words, or the circumstances turned out to be above us — we ended up delaying the project for a later time … Since May, we practically did not speak to each other. We both had a lot of things to do, and he did not sit in one place — he was constantly looking for the new ideas and ways to implement them.
Apparently it was about that time when he was offered to participate in a new project. I do not know what arguments the Khodorkovsky's people brought up to him, but just imagine that such person was offered to shoot a documentary film, while being in a new unknown country, fully incognito. Of course Kirill agreed — he could not just sit still and make documentaries about Gzhel and Khokhloma. He needed a challenge, and he accepted it.